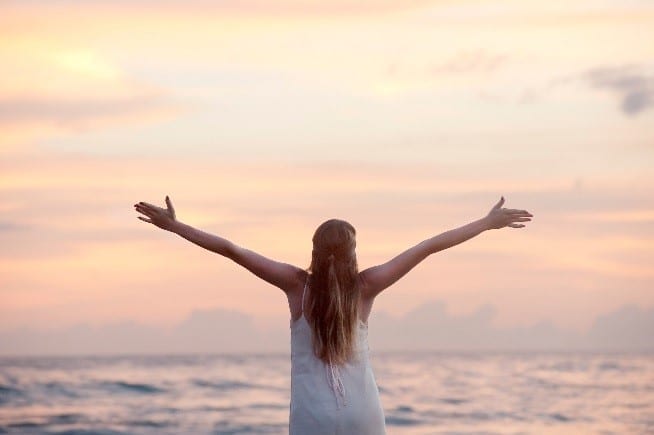 Managing stress is key to peak performance. In many situations, stress is unavoidable and actually welcome.  Performance improves under moderate levels of stress. But, if the stress continues beyond a few moments into a prolonged state, it stops being beneficial. Intermittent stressful events keep the brain alert. Prolonged stress increases the risk of heart disease, depression, and obesity; it also decreases your cognitive performance. The bulk of your stress is under your control.
These strategies will empower you with the ability to regain control over stress.

1.  Be Positive – When your brain strays into negative thoughts, consciously select something positive to think about.  Any positive thought will work; try one of these: something happy that happened last week, something you are looking forward to, a favorite holiday, an activity you enjoy.  The trick is to have positive thoughts ready so that you can shift your attention when your brain tries to go in a negative direction.
2.  Disconnect – Constant notifications from the internet and emails are like little bursts of stress on your brain.  Take regular time off the grid. Making yourself available for work 24/7, exposes you to a constant barrage of stress. Force yourself offline and turn off your phone.  You can start by scheduling a few hours off on a Sunday night, then on a weeknight or even take the whole weekend off.
3.  Limit Caffeine – A caffeine boost may seem to help combat stress at first, but when used in excess, can result in: irritability, anxiety, insomnia, tremors, heart racing and nausea.  By limiting caffeine, you can ward off stress and bad moods.
4.  Exercise – Regular aerobic exercise provides amazing benefits to your body, your metabolism, and your mood. It has a unique ability to calm, to counter depression and to dissipate stress.
5.  Sleep – A good night's sleep will leave you better prepared to manage stress throughout the day. Good sleep has many positive impacts including improved learning, increased memory, and improved mood.
6.  Reframe – Reframing is seeing the current situation from a different perspective. Use this technique to see stressful or overwhelming events in a more positive light.  For example, when going for a job interview you might tell a friend that you are very stressed out and nervous because of the interview.  Or, you could reframe the situation by telling the friend you are very excited by the prospect of interviewing for a new opportunity.
7.  Breathe –  When you feel stressed, it is common for your rate of breathing to increase. You also tend to breathe in a shallow manner, higher in your chest. Deep breathing exercises allow you to take fuller, slower breaths that reflect a truly relaxed state. After deep breathing, you will find it is much easier to let go of distracting thoughts.
8.  Seek Support – We cannot tackle all of life's challenges alone. It is important to tap into your support system when a situation is making you feel stressed and overwhelmed. Identify the individuals in your life that are rooting for you and make an effort to seek their insight and assistance when needed. Sometimes you just need to talk. Expressing feelings can be relieving, you can feel supported by others, and it can help you work through your stressors.
9.  Gratitude – Take time to notice and reflect on the things you are thankful for.  People who do this regularly report improved stress levels, mood, emotions, energy, sleep and health.
Now that you have the tools needed to regain control over stress, peak performance is on its way.
For more career advice reach out to us at Tal Healthcare.