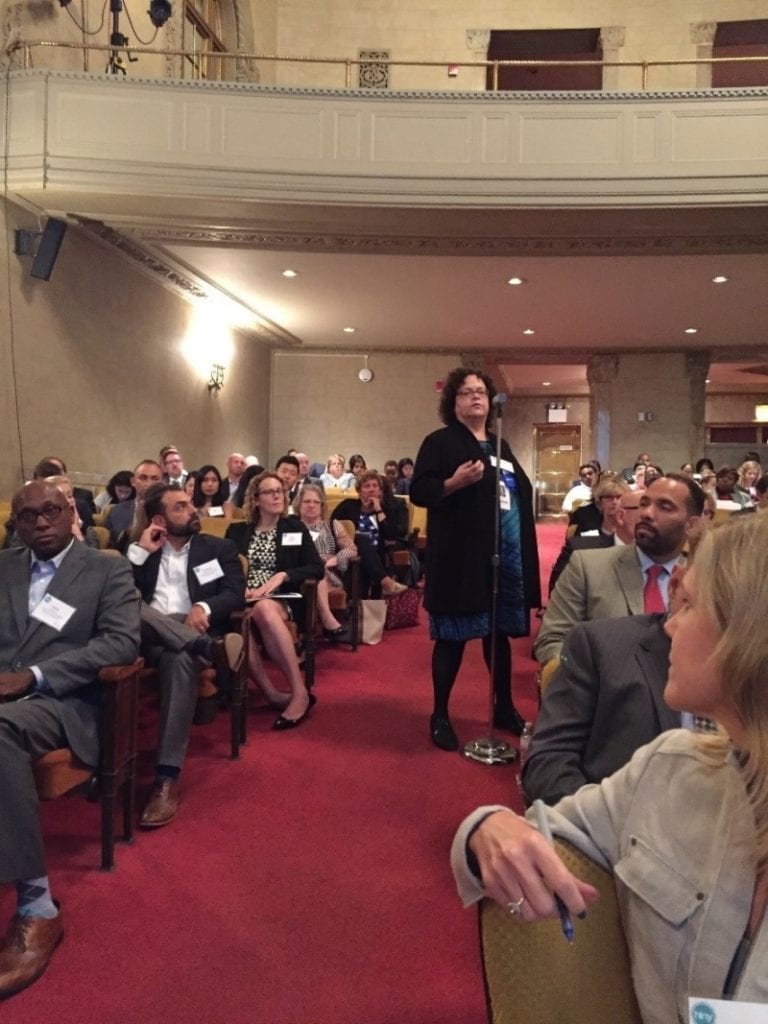 September 14, 2017 – Lea Tal, CEO of Tal Healthcare, was called on to speak at the HLNY 2nd Annual Mini-Congress. HLNY, Healthcare Leaders of New York, is the local chapter of the American College of Healthcare Executives (ACHE).  This year's theme was "Discovering Possibilities and Opportunities."
During the scheduled session discussing "Changing Business Strategies and Aligning Executive Compensation," Lea Tal, an HLNY Gold Sponsor and a member of the audience, was called on by the moderator, Sean Smith, to share her experience and insight on Healthcare hiring trends. Bringing her 21 years of recruitment experience to the discussion, Lea shed light on the many challenges of hiring Physicians, Psychiatrists, Nurses and other healthcare leaders.
In her straightforward style, Lea started out by stating the major issue facing physician hiring in the New York Metro area: physician salary disparity. Physician salaries are lower here than in the rest of the country.  She went on to discuss the issues facing the whole country.  We are currently suffering from the undersupply of primary care physicians and the oversupply of specialty care physicians driven partly by the disparity in earning potential.  In recent years, Lea told the audience, there has been a significant increase in the demand for Physician Assistants and Nurse Practitioners to counterbalance the shrinking supply of primary care physicians.  Lea pointed out that nationwide there has also been a dramatic shift from Acute Care to Ambulatory Care, Emergency Care to Urgent Care and Inpatient Surgery to Outpatient Surgery leading to many changes and challenges in healthcare hiring.  Healthcare systems mergers that have allowed the corporate infrastructure to reduce duplication of resources have resulted in a reduced opportunity for senior as well as middle management executives. These issues are further compounded by the changes in direction of ACOs, bundled payments, MACRA, and other payment and delivery model changes that have added layers of complexity to getting the right people in the right quantity with the proper skill set into the right opportunities.
Also in attendance, Ellen Pressberg, MBA, Recruitment Account Manager at Tal Healthcare, said, "The conference was well-done, as many of the speakers contributed their own stories of successes and failures they have had in implementing change in hospitals.  One of most important takeaways for me is that change is only successful when all parties are included and buy into it, including management, staff, doctors and patients."
As unexpected as it was, when Lea got up out of the audience to join the discussion and speak plainly about hiring challenges it seemed that she may have been a part of the program.  She refocused the panel discussion and brought to the forefront a discussion on disparities and challenges, primarily in hiring Primary Care Physicians and Psychiatrists. Throughout the rest of the day's discussion, panel members frequently referenced Lea's thoughts and observations.

Written by:
Kathy Lin, Marketing Communications Manager
Kathy writes content for Tal Healthcare, a healthcare career website. She has a background in recruiting, sales, and teaching.  She holds a BA in Biology from the University of Vermont.  When she isn't writing you can find her outside running, skiing or biking.