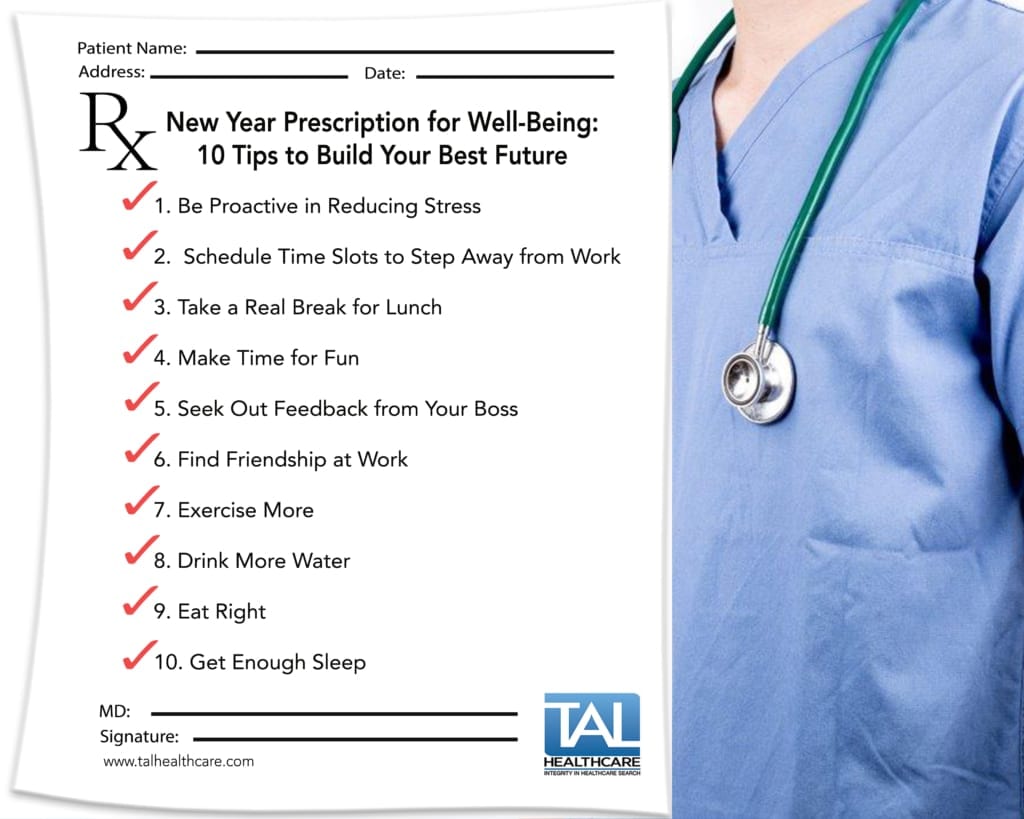 This is a career prescription for living your healthiest and most productive year. These are 10 action items you can do right now to have the best year yet. We all want to be healthy, but for many, unless you set a goal to take care of yourself it is unlikely to happen. See what happens when you add these goals to your 2018 calendar.
Here are 10 tips to take better care of yourself this year:
1. Be Proactive in Reducing Stress
There are so many reasons to schedule relaxation: you deserve it, it's good for you and it takes very little time.  These activities will reduce your stress in minutes: meditate, breathe deeply, be present, laugh out loud, listen to music, get moving, write down what you are grateful for.  Practicing any of these stress-relieving activities before you get overwhelmed will keep you on the healthy and productive track. Take a few minutes to schedule stress reduction.
2. Schedule Time Slots to Step Away from Work
Reclaim personal time. Set specific time slots when you won't work. Instead, spend time on yourself, your family and your friends. Start with scheduling these slots for first thing in the morning and dinner time. Make these slots sacred times to spend with family and friends without any work tasks. Reclaiming personal time can be life-changing.
3. Take a Real Break for Lunch
Lunch is an important chunk of time in your day so plan it accordingly.  Taking a proper break will allow you to accomplish more in the long run.  It will increase your productivity and creativity.  The most important aspect of lunch is getting up and away from your desk.  Use this time to connect with friends, run an errand, or get exercise. When you return you will be refreshed and rejuvenated. Don't forget to eat, but you can do that at your desk after you return to work.
4. Make Time for Fun
Fun is defined differently for each person. Is your idea of fun spending time with family or friends, reading, going to a concert, or going to a ball game?  Whatever it is, make sure there is time on your schedule for fun.  Having fun will give you a more positive outlook on life. That positive attitude will put you in the zone to achieve positive result at work.
5. Seek Out Feedback from Your Boss
A lot of stress at work comes from not knowing exactly where you stand with your boss.  Keeping that bottled up until your yearly review makes receiving the feedback even more stressful.  The more often you ask for feedback, the less stressful it becomes. Put some time on your boss's calendar to check in and get the feedback that will put you in a place where you can grow and improve.
6. Find Friendship at Work
Social connections are a basic human need.  There are true health and happiness benefits that stem from friendship.   It can be tricky balancing work and friendships, but don't let that keep you from getting to know the people at work.  Take five minutes in the morning to get beyond "hi." Take 20 in the afternoon to grab coffee or go for a walk with whoever you can. It will make your days healthier and set you up for success.
7. Exercise More
Exercise will make you feel better, give you more energy and jump-start your career.  Exercise helps memory and improves thinking. It doesn't matter which kind of exercise you do, they all have the same results.  So, get moving toward a healthier and more successful year.
8. Drink More Water
Drinking water is essential to your health. Water energizes your muscles, helps your kidneys and keeps things flowing in the gastrointestinal tract.  Dehydration can lead to headaches and crankiness. An easy way to get enough water is to drink a glass with every snack and meal. This is something you can schedule. More water will keep you healthy and happy.
9. Eat Right
It is true, you are what you eat. Food directly impacts our cognitive performance.  A poor decision at lunch can derail the whole afternoon. Some tips for eating healthy: make your food decisions before you get hungry, eat small frequent meals, and keep healthy snacks at your desk. Fruits and veggies will make you feel happier, more engaged, and more creative.
 10. Get Enough Sleep
Sleep is essential to better health. There is a lot of literature out there to help you get a better night's sleep; do your research. There are also many free sleep apps available for your phone. Schedule the sleep you need in order to move your career forward.
Taking care of yourself will bring you and your career to the next level. Schedule time to take care of yourself and watch your work and life improve dramatically. Give it a try and make 2018 your best year yet.
Disclaimer: This content is not intended as a substitute for a primary care physician advice, diagnosis or treatment.
Seeking new opportunities? Click here to Search Jobs.
Looking for great candidates? Tal Healthcare is here to provide great service; click here to learn more.

Written by:
Kathy Lin, Marketing Communications Manager
Kathy writes content for Tal Healthcare, a healthcare career website. She has a background in recruiting, sales, and teaching.  She holds a BA in Biology from the University of Vermont.  When she isn't writing you can find her outside running, skiing or biking.