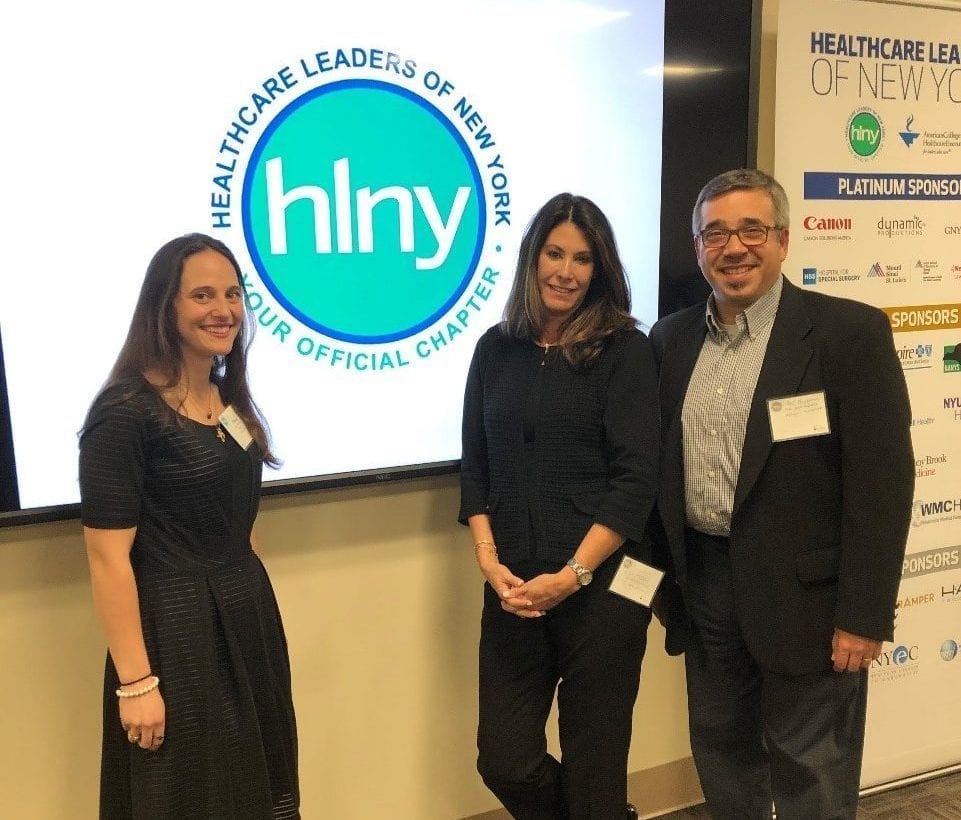 Pictured from left to right: Kasey Amendola, Lisa Morris, Bob Prosperino. Not pictured: Rich Fenton
May 8, 2019 – Tal Healthcare was at the Healthcare Leaders of New York (HLNY) conference on "Reinventing Customer Service in Healthcare: Lessons Learned from the Best" at the Westchester Medical Center. HLNY is the local chapter of the American College of Healthcare Executives (ACHE). "We learned how hospitals are focusing on measuring and improving patient experience," articulated Bob Prosperino, Recruitment Account Manager. "Some of the strategies discussed were using technology to allow patients to self-schedule appointments, utilizing patient portals to allow patients to see their records, and by texting patients shortly after their visit to make sure they had a positive experience."
"Jorge Capote from Memorial Sloan Kettering shared the innovative ways his team approaches the patient experience," noted Rich Fenton, VP of Healthcare Search. "Everyone, from Food Services to Physicians, can help patients in amazing ways during brief interactions."
"This event was informative," said Lisa Morris, Senior Recruiter. "I learned so much about patient advocacy from the empathic healthcare professionals who shared personal stories."
"What a great event!" reported Kasey Amendola, Recruiter. "I had a chance to meet fantastic people and hear touching stories about going above and beyond for healthcare customers!"
Tal Healthcare, a long-time member of ACHE and Gold Sponsor of HLNY, is grateful to be a part of the excellence-driven changes taking place in healthcare.
Written by:
Kathy Lin, Marketing Communications Manager
Kathy writes content for Tal Healthcare, a healthcare career website. She has a background in recruiting, sales, and teaching.  She holds a BA in Biology from the University of Vermont.  When she isn't writing you can find her outside running, skiing or biking.