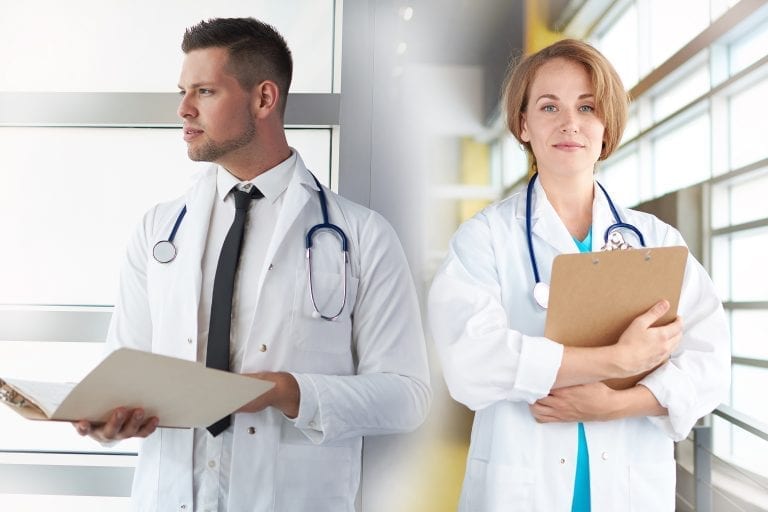 Physician Assistant job interviews can be challenging.
You need to impress both the hiring manager and the physician with whom you will be working. Show them you have a passion for the field and the position. These tips will help you stand above the rest as the top Physician Assistant candidate for the job.
1. Prepare Your Documentation
Take the initiative to bring all the right paperwork with you to your interview, even if you are not asked to.  Your documentation should include resume, licenses, registrations, degrees, and certifications. Having the right documents at your fingertips will show you are organized and prepared.
2. Dress Appropriately
 You only have one chance to make a first impression; make sure it's the right one. Even though the professional world is becoming more casual, a business suit is still the standard for a physician assistant interview. If applicable, keep your makeup, hair and jewelry understated and minimal. Avoid heavy perfume or cologne. Hide any facial piercings and tattoos.
3.  Research the Facility or Practice
Visit the organization's website. Learn about their history and services. Look up the profiles of key leaders and physicians in the organization and those you will be meeting.  Pay close attention to their backgrounds so that you can ask them pointed questions about their position or training. Show that you have gone above and beyond to make sure this organization and position is the one for you. This will set you apart.
4. Prepare for Performance-Based Behavioral Questions
Employers often want to see you think on your feet during the interview.  To achieve this, they often ask specific performance-based behavioral questions. These are questions regarding how you have acted in past situations such as:
How have you solved a clinical challenge? What was the outcome?
How have you handled a conflict with a colleague over the management of a patient?
What have you done to improve patient safety?
What coping strategies have you used when under pressure?
Have you ever been on a team that wasn't functioning optimally? What did you do to resolve it?
To prepare for this type of questioning, take some time to recall challenging situations you have encountered.  Prepare stories that highlight successful problem-solving and achievement. Use these stories as a framework for responding to performance-based behavioral questions. The employer will want to see your compassion and quick-thinking skills.
5. Prepare for all Types of Questions
You can expect all types of questions from hiring managers and physicians.  They may ask about your past, your education, your personality and your aspirations.  Go through this list and formulate an answer for each. Practice with a friend who can give you feedback.
Why do you want to work in this healthcare facility/hospital?
Why do you want to work with this unit?
How do you think healthcare professionals should interact with patients?
How do you deal with a difficult family member of a patient?
What steps have you taken in the past six months to improve yourself?
What qualities do you value most in other physician assistants?
What qualities do you value most in the physicians you've worked with?
Do you see yourself working as a physician assistant in ten years?
What initially led you to be interested in becoming a physician assistant?
Why do you feel you'd be a good fit as a physician assistant here?
If someone had to describe you with three words, what three words would they use?
What are you passionate about outside of caring for patients?
How do you feel about late shifts or early shifts?
What are some things you hope to accomplish in your career?
How do you measure success?
If you could have your choice of any job, what would you do and why?
What motivates you in particular?
What other skills have you developed that would be useful in your role as a physician assistant?
Why should our healthcare facility/hospital hire you as a physician assistant?
Why do you feel you are the best candidate?
Is there any change you'd like to see at this hospital/healthcare facility that would make you choose this job over some of the others you are considering?
Give an example of when you had to go the extra mile for a patient or a patient's family.
How would you improve the levels of patient care at this hospital/healthcare facility?
Patients are not always forthcoming about their medical history; how do you get them to disclose all the important and relevant information to provide quality care?
What does quality of care mean to you?
If asked to go above and beyond, or work longer shifts to accommodate increased patient numbers, would you be comfortable?
The more you prepare and practice, the more confident you will feel. Let your passion as a Physician Assistant shine. Take the initiative now so you will be at the top of your game during the interview.
Written by:
Kathy Lin, Marketing Communications Manager
Kathy writes content for Tal Healthcare, a healthcare career website. She has a background in recruiting, sales, and teaching.  She holds a BA in Biology from the University of Vermont.  When she isn't writing you can find her outside running, skiing or biking.